There's been way too much advice on digital marketing around the web lately- digital marketing this, digital marketing that. Social media platforms like Twitter and LinkedIn are flooding business owners and marketing managers with tips on how to harness the potential of their online presence and take 'your business to the next level'. Digital transformation, online acquisition strategies, cost per acquisition, CPCs, Google listings, average client value, social upkeeps and loops, this and that, sure, bring it on. But do we know how these interpret in real life? How do these metrics really, and I mean REALLY, relate to our customers? Why is it so important not only to be present on the web, but also do it the right way? Or is it?
The following is a true story that took place today on 9th August 2017. My mentor and a dear friend, let's call him Paul for this article, had a meeting at Amazon headquarters today. As he usually does before a big day, he woke up early and had his refreshing green tea beverage and a handful of raw nuts, before doing his morning stretch and meditation. While getting ready for the meeting he was already thinking about the objective and outcome of the meeting, browsing through different scenarios in his head. Good 40 minutes before the meeting he called a Uber pointing the City of London as a destination. The ride shouldn't have taken too long, after all, Hyde park is just down the road. When the Uber driver drove through Holborn Circus he finally asked where exactly he was going. Paul then did something that all of us would do- looked up Amazon's address on his mobile phone.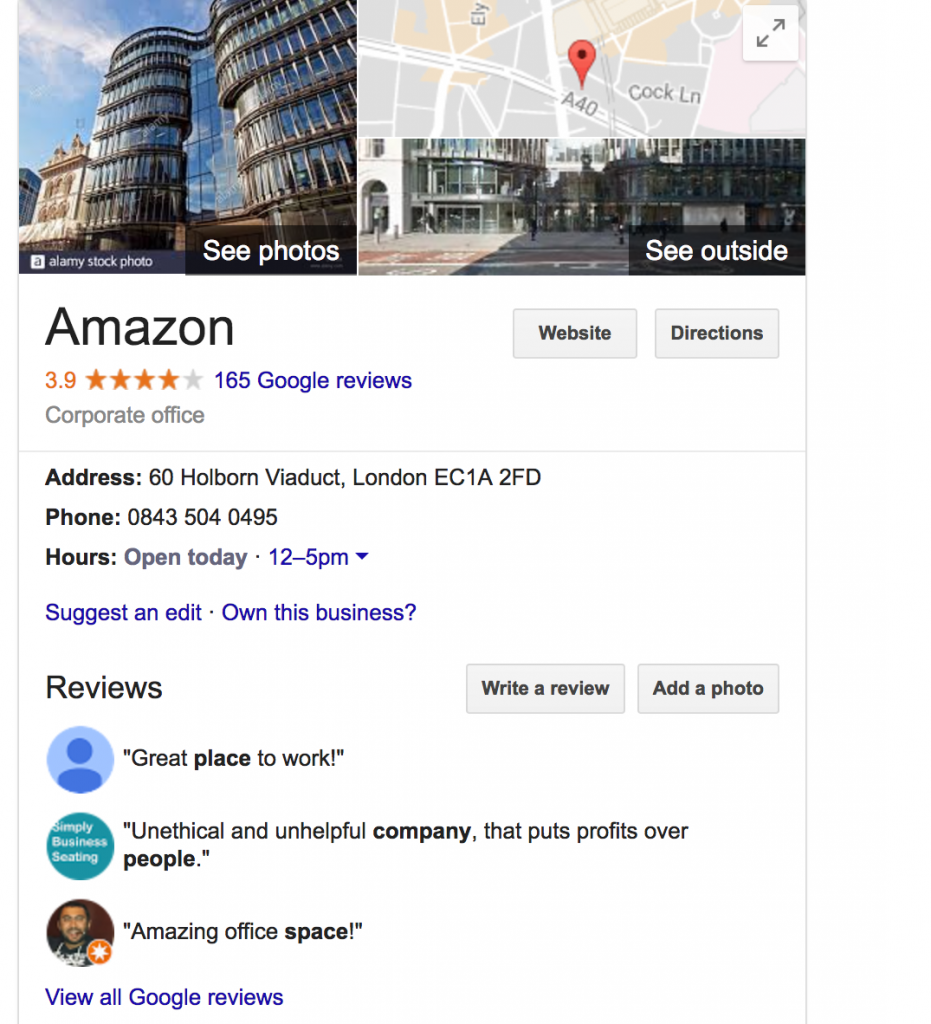 The listing showed 60 Holborn Viaduct and the Uber driver headed that way. 10 minutes were left to the beginning of the meeting, Paul was rehearsing his business pitch in his mind, tapping the sidewalk nervously. He was very particular about his arrival time, after all you wouldn't like to be late for such a type of meeting, would you? I can only imagine the look on his face once he was told by the polite and well-mannered concierge that Amazon had recently moved their headquarters to a brand new office of the city! Yes, that's right, they had moved to 115 Worship St, London EC2A 2BA which is about 1.5 miles away or about 12 min by car, provided there's no traffic. My friend was gutted- not only was he going to be late for the meeting, but he couldn't believe it was Amazon, the tech giant Amazon, that would make such a silly little mistake and not change the address on their Google listing. After all that's the same Amazon that is testing drones for deliveries, the same Amazon that adopts cutting edge innovations and is an industry game-changer… The story continues with Paul grabbing a black cab, rushing through the City and making it late and frustrated to the meeting. End of story. True story.
When I heard about it, I couldn't believe it either, I had to double check, was this really possible?! Indeed, Amazon's Google listing for both, their new and old location were unclaimed and not verified!
Imagine the excitement this caused at the office, at once all the geeks gave me a playful look and I knew at that very moment what that meant – they wanted to have a laugh with Amazon's unverified listing. Let them play I thought to myself and so we did. Check it out here.
But reverting to the topic, if giants like Amazon make such audacious mistakes in their local marketing, or perhaps they'd argue that this is their strategy, how can we expect a corner beauty shop to be equally good or even better? The answer is – we don't. This is a classic example of a screw up, sorry to say, Amazon.
After all my friend did manage to attend the meeting and have the outcome he wished for. But as a business owner are YOU willing to take that risk and end up having some of your clients not being able to find you? How important is this for you as a local business? How many clients are you happy to risk losing because your online reputation or presence is not impeccable? And how much would this cost your business?
We, at Local Fame, not only help businesses get more discoverable online and make the most of their web presence, but we also do it well. No screw ups like the one fore-mentioned… and we also clearly like to have fun.
Dear Amazon, your listing is now about to become our hostage, please contact us at your earliest convenience if you wish to have it back. 🙂
Regards,
Dani