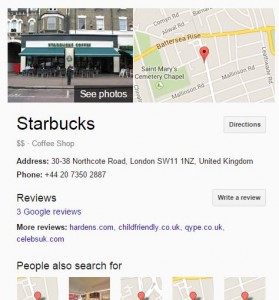 Recently, without any special announcements, Google Places has changed the way it behaves on mobile devices. From now on, whenever a user performs a search for local business, they are being suggested Google Places listings with
expanded brand information
. Meaning, instead of seeing just a pin on the map with the name of the business and occasional reviews, user will now see a complete Places business profile, which makes online brand management more relevant than ever before. Information displayed includes practically all information on the Places profile – opening times, telephone number (with option to call built-in), any relevant contacts, address and map, price ranges, website, any attached photos and
business logo
as well as customer reviews and any other relevant info.In other words,
mobile devices are no longer considered to be 'light versions'
of 'real computers' and in the eyes of Google they deserve the same amount and quality of information as any desktop or laptop computer. According to
StatCounter 2015 Q1 Report
, 27% of web traffic in the UK is generated by mobile devices (33% Global Average).These are all
signals for business owners
who still ignore online brand management and mobile users. Today, your potential customer is anyone walking down the street of your city with a smartphone and access to the internet. Considering strong expansion of mobile devices, businesses should consider investing into brand management, important especially in
digital marketing for franchises
, online in order to attract, acquire and keep more customers.