Depends On Who Are You.
Another study by Jonah Berger and associates reveals surprising fact: positive reviews always grow sales but negative reviews don't always show opposite effect. It turns out, everything depends on who is receiving them. In the analysis, the team observed relationship on the example of New York Times book reviews. As the result, more established writers have indeed experienced decrease of an average of 15% in sales due to negative reviews. However, the writers without any reputation, relatively unknown authors have actually experienced boost in sales with an increase of 45% again due to negative reviews. This is quite unexpected, isn't it? It would be logical to presume that unfavourable reviews would have to kill the sales of small authors. But as the research found out, for the lesser-known names negative reviews work as a public awareness catalyst. Consequently, society values real users' experience and opinions, as they show the product is actually used by someone and the effect of this knowledge is stronger than negative context. Therefore, both good and bad reviews are potentially sales catalysts.
Depends On The Tone. This is something even kids use. Remember when you broke something or got bad mark in school, how would you say this to your parents? Polite tone changes the picture dramatically. Politeness of even the worst review you ever got makes readers consider more credible. Putting a softening phrase preceding to bold critique actually creates value for others. 'Disclaimers' like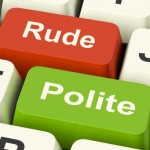 "I don't want to be mean", "I'll be honest.." or "I'm not going to lie to you" result in the reader see the reviewer as more likable, legit. These positive feelings actually decrease the degree of negativity and make the whole review sound more objective. In fact, the feelings reader gets from reading a review seem to make them see the product or service as likable or credible itself. And as a research published in Journal of Consumer Research in June 2014 shows, tone of negative review influenced the way people evaluated the price of a luxurious watch. When readers were shown reviews without indulging phrases they were only willing to pay around £60 ($95). However, when the reviews were just as negative but with polite introduction, the percepted value grew to £85 ($135).
Therefore, the overall tone of negative reviews might influence the final outcome and meaning of them for your business. This largely depends on the type of audience certain sites attract. Platforms with nasty and barely acceptable tone will probably result in losses for you. On the other hand, getting bad reviews on the websites with more educated, intelligent reviews might bring you benefits.
Bad Reviews Are Not That Bad After All.

Apart from the abovementioned effects negative reviews carry, they also turn out to be the reality of our life. And even more than that. Taking them out of the picture actually makes it look fake. People expect bad reviews, as they know there should not be only positive opinions about any product. It is not possible to please everyone. In surveys conducted in 2013 by Revoo, this was confirmed with shocking scale. 68% of viewers presumed reviews can be trusted when they only could see both good and bad scores, while 95% of consumers suspected reviews were fake or censored when they could not find any bad scores. What's even more interesting, negative reviews are the reason some people would spend about 5 times more time on a website and they were almost twice more likely to convert (4.35% vs 2.35%).
Conclusion. In a nutshell, negative reviews are not a reason to panic or try to hide them. Any genuine feedback means user involvement and that has never been a bad thing. According to scholars, your existing reputation and a tone of negative review define the outcome. Being a newcomer to the market means getting any feedback is a huge plus for business. And if the tone of a review is not working in your favour be sure to contact the person (if possible) and discuss their experience. Create an opportunity for development and improvement for your local business. Review management may become crucial factor of your company's growth so embrace it instead of fighting. In fact, you can catalyse it by helping your business generate lots of reviews on reputable platforms with trusted reviewers. The brand awareness brought by such reviews will probably overweight any negativity of positivity of the text and bring you benefits in short run.
Transform negative into positive with brand reputation management and create yourself a trusted name online.