There are many ways to optimise your online presence so that you can be found locally. But as any experienced marketing professional out there knows, you need a strategy. And a detailed to-do-list. This guide will cover the basics, yes, but it will also dive deep into some key areas of any SEO strategy for local business. In this particular case - a newly opened franchise location.
Our Local Fame experience shows that due to the structure of most franchise chains, they already have planned an online marketing strategy for a newly opened franchise locations. Our job, as a professional digital marketing agency, is to add this special flavour to the mix, called expertise. This article will not discuss the advantages of having an external agency working on the online presence of a large business. However, a good argument in favour of hiring an agency to manage your digital presence would be the fact that if they operate on the franchise market at such a large scale, it's very likely that you'll be dealing with the driving force in the marketing field.
Another important thing to consider when working with franchises, shared by Kent Lewis, is to:
"Know the rules and play the game. Franchises have rules and regulations, but they also have resources available. Understand the rules and support your franchisor to benefit your fledgling location. Specifically, look for co-op marketing dollars you can use for advertising. Also, leverage existing content from corporate, while understanding rules and best practices around customizing and localizing the materials."
Now, let's look into the marketing channels every franchise location should invest in.
Google My Business, Google Maps, Google Places, Google Local - the tool is just like the Many-Faced God from Game of Thrones. I can think of even more names, but whatever you call it, it is the same powerful free online marketing asset that makes everyone's lives easier. It is worshipped by SEO experts and Google users alike. Online marketing experts love it because it shows above the organic search results in Google SERP. Additionally, optimising the Google My Business listing brings long-term SEP benefits because the rankings of the website may fluctuate, but the Google My Business listing is more sustainable, and although there is a correlation between the listing and the website's positions, every business owner can rely on the Google listing to bring clients to his doorstep.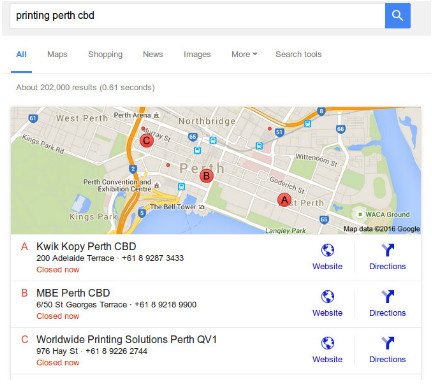 But here comes the best part - people can directly call the business from a mobile device with one simple click. This is a huge deal, and people do use it. The other options are useful too - people use the driving directions option to get to a business, another way to increase your footfall without much effort.
How to optimise a Google My Business listing?
Well, put yourself in a potential customer's position - they want to see the business location, how far it is, how they can get there or if it is open right now. I remember this once when my mates and I were absolutely starving and were searching for a good local burger place. There was this new place not too far away, so we jumped in the car and drove there expecting it to be open (as per the working hours on the Google listing). You can imagine our disappointment and frustration when we found out the place was shut. We never considered going back there again.
Creating local citations for a newly-opened franchise location should only be done after you check if there are any existing citations that have the same phone number, address or business name. This is a pretty straightforward procedure and although we are talking about a new business, you never know if there are any duplicate listings.
Crystal L Kendrick says "it is recommended that the franchisee participates in every free online business database (yellow pages, Manta, industry groups, community groups, etc.) and every free personal database of the business-owners (church, neighborhood, alumni, fraternal organizations). These databases typically have a lot of activity and rise to the top of internet searches. Additionally, persons who use the personal databases are typically loyal to the businesses listed."
Bryan Clayton takes care of 7 franchise locations so he knows a thing or two about the hassle of creating hundreds of local citations. This is why he advises against it: "The first thing I would do is to get my business listings set up and all of my local citations in order. Most local marketers don't know that if your citations are not consistent across the dozens and sometimes hundreds of places that you are listed online then Google will penalize you and see your local location as several different locations rather than one location for them to rank it well."
Whether you have a website for each location or a single website for all locations, there are a couple of must-haves from an SEO point of view:
According to Stuart Cole, creating a mobile-friendly website is a first order of business:
"In my opinion the first and most important online task that a new franchise business should put at the top of their 'To do' list, is to create the website. Almost everything else will reference it and it will showcase your brand online. Spend a bit of time getting the image and content right. Spelling mistakes really don't look good, nor do the stock photos. Make sure it looks good on a mobile phone as most visitors searching for local business actually use mobile phones rather than desktop computers."
Clickable call-to-action buttons.
Short loading time
Engaging content, no keyword stuffing, please.
Tanner Rankin's experience shares what's important in the social media field "...don't forget about the social proofing. You're going to want to inspire your customers / clients to leave reviews for you there as well. Take your time with these listings, add photos, and use content that doesn't just explain what you do, but how you do it, what makes you stand out of your competitors and so on. There is one more place that is good for picking up steam for local businesses, which is Facebook. Your Facebook business page should prominently feature reviews, your location, and contain call to action buttons. Item of note - I always tell my clients that social proof and credibility matters. Before you start running Facebook ads, I would invest a small amount in a Facebook "like" campaign and get as many interested folks as possible to like your page. Although the age of organic reach on Facebook is over, consumers measure credibility when researching to make a purchasing decision and one of the metrics they measure is Facebook likes in addition to reviews.
If you have the means, video advertising on Facebook is still very cost effective and allows segmenting and targeting your audience precisely. But there is another benefit too, the fact that YouTube is the #2 search engine in the world, and your videos can rank very well locally. Invest in some excellent photography to really show off your location, your team, and your value offerings. From there, measure, analyze, and adapt week to week and month to month, always be refining and always be closing."

Natalie Bidnick Andreas is all about social media too:
To build a local franchise from scratch, I advise focusing 80% of all efforts on social media channels. Specifically, Facebook, Twitter and Instagram. Social media advertising is a scalable way to build an interested, geo-targeted audience before a franchise location even opens.
I am just going to quote SEMrush's Head of Digital Marketing, Yulia Khansvyarova:
"I would say that the first thing you have to do is to set up a website and an advertising campaign in order to drive paid traffic to your site. Also, because mobile search has skyrocketed recently, it is incredibly important to make your site mobile friendly and to have a separate advertising campaign that will run on mobile devices. I would definitely rely on Facebook ads to target specific audiences that are likely to be interested in your offer. Facebook has in its hands an enormous amount of data on its 1.5 billion users, which allows you to create very advanced audience segmentation. You can also upload data on existing customers in order to create "look-alike" audiences based on predefined parameters. Facebook also has one of the largest mobile-exclusive user bases in the world, which makes it a must-use advertising platform, especially for local business."
Why is Facebook that important? Due its algorithm, Facebook shows ads to users that are way up in the conversion sales funnel.
Sam Williamson focuses on paid advertising for a newly opened franchise location simply because the brand may not be that recognisable in the new area:
"We usually use Facebook (and possibly Instagram if it is the right industry). It's very cheap to run advertising campaigns on Facebook and users can be targeted so precisely that it's the perfect choice for a newly-opened franchise that only wants to market to people in a specific area/location."
Was that convincing enough? Let's accept it was and move on to the next point.
This has been repeated over and over but we felt obligated to point it out once again. Imagine that someone used your services and was very happy with how you treated them, so they shared this information with their circle. So far so good. But what if this happy person didn't share their positive experience online, the effect would've been limited.
Benefits of getting reviews for your business:
You get unique content
You communicate with your customers
Most people will read the reviews first, and will engage with your brand afterwards
Therefore managing the online reputation of a business in modern times is crucial.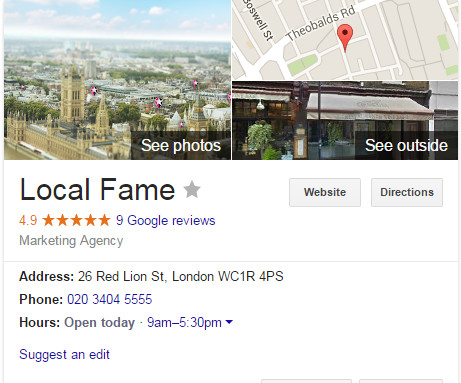 Shoot a video (a short one), according to Tom Scarda:
"Today, it seems that video information and content marketing is what's working and will be around for a while. I would shoot some videos with consumable content about my business that would give the viewer and the potential customers value. These days shooting video is easy however you have to know a little about it. Lighting and sound are paramount. People will not watch more than 3 seconds if the quality is poor. In addition, brevity is key. I heard my teenage daughter say this week, 'My friend wanted me to watch a video that was three minutes long! I don't have time for that!' Wow, I thought. We have to get our marketing down to 140 characters or a 10 second snapchat."
Aside from describing your services and listing your business information, there is much more you can do to get more visitors to your website. If you are a courier company, it's easy to say that e-commerce business owners are in your ideal target audience. What do they care about - how to improve sales platform and increase their revenue. You just have to review a helpful e-commerce tool or plug-in that can be of interest to them.
Stuart Cole's advice is to try and get links from local websites, clubs, football teams, pubs, etc. as long as they are local. They will provide signals to the search engines that your website is a locally based business and will help the website rank better for local keywords. It can take a little time to see the rewards from this so it's worth doing as soon as the website is ready.
Nathan Cavicchi talks about getting links from other local resources:
"We know that Google takes note from other established local listings. To increase organic search rank I would recommend partnerships with other local companies. This can be as simple as mentioning a certain company and getting a percentage off or actually bringing printable coupons to a location. Your goal is to get on their website. This will happen usually one out of five times if you are doing it right. A good place to spread the word is colleges and business parks.
Instantly start getting involved in local fundraising and non-profit organizations. Small donations can get backlinks and traffic from local websites that are much more valuable than the small amount of spend you would need to do this."
Every SEO out there knows that a few good links can do miracles to a website's performance. Work towards getting those amazing backlinks, and get the easy ones (along the way).
Targeting email lists and remarketing are the big things according to Dallas McLaughlin:
"Assuming website, social media channels and local business listings are a given, I'd focus on how to reach and convert the first wave of customers.
Many franchises are able to provide data from an existing database which will allow new franchisees to target local customers, usually in the form of an email address. Even if this is a list built nationally and does not contain any geographical information, pay-per-click ads can still be served to these users within a geographically centralized area. For example, Facebook, Google and Twitter give advertisers the opportunity to import email lists, creating messaging. These platforms also allow advertisers to layer in geographic, interest and demographic targeting. If an email address on your list fits this criteria and is within the geographic boundaries you've drawn, they can be served your ad. This is a great tool to reach an already interested audience and convert them at your newly-opened franchise.
The second phase of this strategy is to use this same email list and use Google and Facebook to create what is a called a look-alike audience to serve ads to. This is a new audience with similar interests and behaviours to the users on the email list that was initially provided. This is a nice strategy to support new sales growth."
Crystal Ignatowski states that without tracking, you can't achieve your goals simply because you wouldn't know if you got to where you wanted to be: "... Another important thing to note is to set up tracking. If you want to build an online presence, you'll want to know if what you are doing is working or not. Something simple and free like Google Analytics can offer all you need to know." Another incredibly useful method to measure success is to count the number of calls that came through SEO for franchises. Here at Local Fame, this has proven to be the cornerstone of most of our tracking efforts over the years.