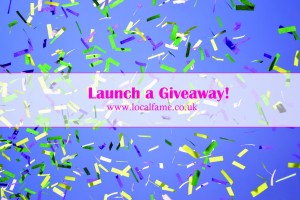 Here's What to Do
Get a few of your team together and try a brainstorming session. It's amazing what ideas will come up when a few like minded people come together to thrash out their thoughts. Here is what we would suggest: - Ebook - Share Your Expertise - Case studies - Prize for a contest
Ebook
Once all this has been done the next step is to launch your contest, and share the news on your social media site, or by writing a blog post about the event. Invite all your customers to take part, and email anyone else you can think of that will help you spread the word.Owning your own business means you're likely to be pretty genned up on the industry you operate in, and the products or services you sell. It's likely that you regularly share your experience both with team members, customers or in any blog posts you publish on your website. Whether you're a small or medium sized business there is another way you can bring yourself and your company to the attention of a wider audience - why not publish an Ebook or a downloadable resource? Think of all those little gems you've got stored, and stories you can tell that will capture a new audience.You don't need to be Shakespeare or a blockbusting author to capture the minds of a reader. To find a topic just think about some of the most common questions you get asked by your customers and go from there. You could also look back over some of your previous blogs and see if you received any useful comments, and don't forget about some keyword research. Keyword research - what's that? Don't worry. Local Fame is a renowned marketing company that can point you in the right direction with extensive knowledge of search engine optimisation, and how to get your business on the first page of an online search.Think about how you're going to let people know you've written a new and exciting resource - add a simple opt in form to your website, and start collecting the email addresses of people who might be interested. Then all you've got to do is put pen to paper, or fingers on the keyboard and get writing. If you're not very confident in your writing abilities there are plenty of freelancers who will write on your behalf. When it's finished, let all interested parties know and send it out online.
Share Your Expertise
Credibility is everything when it comes to building any business. Establishing yourself as an expert in your field and as a good choice to do business with, presents special challenges when it comes to online marketing.Despite the old joke. One great way of showing that you can, is to teach or to share case studies. The win-win strategy is to get e-mail when visitors download your case study. Here is our design:
Online learning has skyrocketed over the last few years. This is no great surprise when you consider the convenience and ease of access it offers. Teaching an online course is a fantastic way of boosting your credibility with your customers.
Here's a 3 step guide on how to do it:
Decide what you have to share: It should be something that relates to your business, industry or products. It should also be something you feel a real passion about, your enthusiasm will infect your students.
Sign up with an online learning site: Udemy is the largest at the moment and once you sign on you'll gain access to lots of tips, resources, advice and materials to help you prepare your classes. Once your course is prepared publish it: Share links and info about your course and its content anywhere you can. On your website, on your blogs, on guest blogs, in emails....everywhere! If you're struggling to get the word out, an online marketing agency such as Local Fame will give you lots of tips and support in publicising your course.
Once you have students, the more available and helpful you're able to be to them, the faster your online credibility will grow.
A prize
An exciting way to increase the awareness, whether you're a small or medium sized business, is to introduce a contest or an opportunity to win a prize. Decide on the kind of contest you want to run, where you want to publicise it, what entrants will have to do, and what you're prepared to giveaway as a prize. You can give gift card with 20 or 50% off your services, just make sure you're giving away something that people actually want or you'll be wasting your efforts.