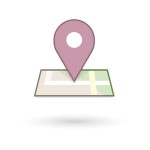 Facebook Deals was marketed as a digital version of the popular loyalty or coupon systems which reward you if you meet certain conditions. In August, 2011 many news agencies reported Facebook Places as discontinued, but that was not the case. The service continued work as intended being renamed to "Nearby" Places and focusing on places you and your friends visited, will visit or points at which you are currently located.
The feature was always advertised as very convenient allowing you to easily share your location and meet with nearby friends. You can also tag your friends, include a comment to let them know what you are up to. Facebook Places does what it does thanks to cell tower triangulation using the GPS technology on your smartphone. You can interact with the Places icons in a few ways and even get directions to another location on the map.
Using the feature is quite easy. All you need is your smartphone and the Facebook application. After you have the application all you have to do is select the Nearby places icon in the navigation bar. You are able to check in to Facebook Places within a radius of your location which is 2 km. The same distance determines which of your friends are nearby. For convenience nearby locations can be filtered by categories.
Facebook users often wonder about the way places nearby are being shown to them. It is actually a very simple algorithm developed by Facebook – you see places based on a few factors: your friends recommendations, where they check-in most of the time and what both you and your friends like. The results may change based on recent places you or your friends have visited and recommended.